Dating in London is great. Not only are there plenty of people to meet and hopefully connect with, but there are also plenty of amazing places to go for a date.
When planning a date, you are going to want to make sure that it will impress the other person and be something that they will remember. You are also going to want to make sure that it is a place that allows you to chat and get to know each other too. Albeit in beautiful surroundings.
One of the best ideas when it comes to heading out on a date in London is a rooftop bar. Not only are they fun, and give you a chance to chat, but depending on the bar that you choose they are also going to give you some pretty astounding views too.
So, what are the top rooftop bars in London? We have put together our top 5 to inspire you for your next date night in the capital.
1. The Rooftop St. James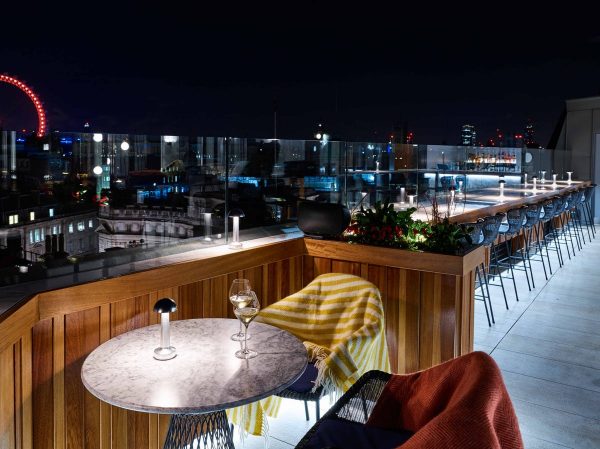 For amazing atmosphere and astounding views, The Rooftop at The Trafalgar St James is hard to beat. Aside from the amazing cocktail list and small plates if you fancy a nibble, we love the fact that this rooftop bar does not only cater for the warmer weather. With outdoor heaters and plenty of cozy blankets, you can also head here when the weather is less than kind.
Read more Here.
2. Coq d'Argent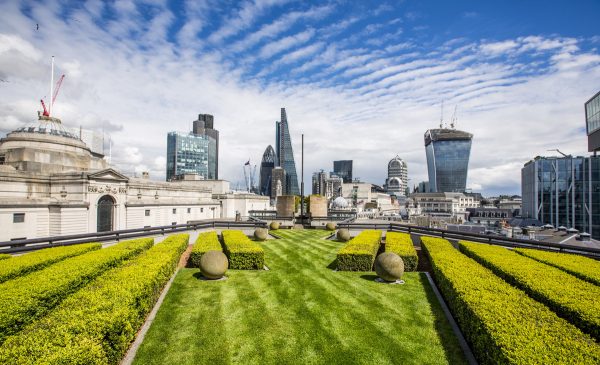 Located in the heart of the city this particular rooftop bar is not far from The Tower of London, Tower Bridge and Southbank. There is so much to love about this particular bar, one big plus point is that there is some truly delicious food served here. If you don't fancy leaving the bar you can enjoy some amazing bar snacks, however, if you are feeling more than a little peckish, you will be pleased to know that you can head into the restaurant and sample some truly impressive food.
Read more Here.
3. Boundary Rooftop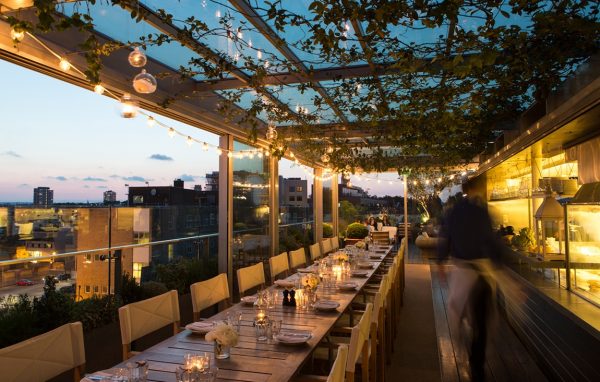 Designed to be the ideal place to hang out no matter the weather, The Boundary is the ideal date location even if it is on the cooler side. Not only a rooftop bar, The Rooftop at The Boundary also is a grill, which means that you can include delicious food as a part of your date. Located so that you can take in some amazing views of City and East London, we love the fact that this bar is warm and welcoming all year round which makes it ideal for an afternoon date or perhaps one that extends into the evening.
Read more Here.
4. Golden Bee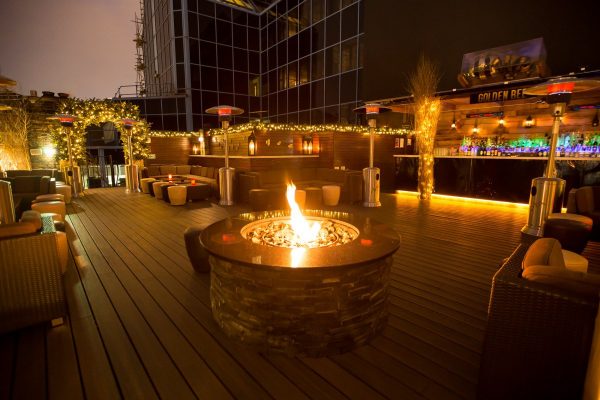 One of the newest bars on the list, The Golden Bee is located in Shoreditch, which means that you can expect a cool and atmospheric bar. Open every day of the week this particular bar is not only located close to the tube, ideal for heading home, but also gives you some wonderful views over Shoreditch, which only get better as the sun sets. We love the cocktail list at this bar, and also the fact that as the night draws in, it transforms from a chilled data venue to somewhere that you can dance the night away.
Read more Here.
5. Roof East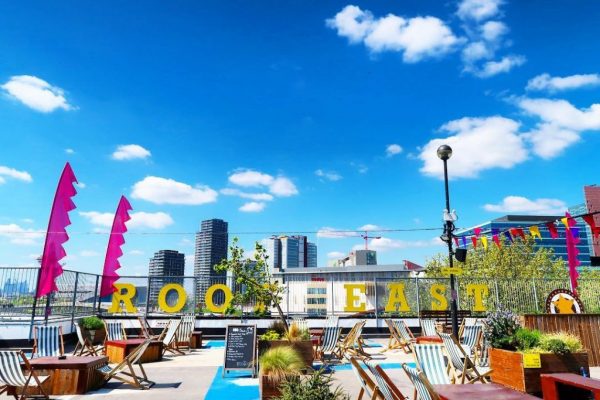 Located in Stratford, Roof East might just be one of the most fun bars on our list. Totally different to the other roof bars, we love the fact that Roof East is essentially a giant adventure playground for the biggest kids out there. As well as having some amazing drinks on offer and a variety of street food, at this bar you will also find a swing, mini golf and a hip hop bowl. All of which makes for a pretty impressive place to have a date.
Read more Here.
As you can see, when it comes to planning a rooftop date in London, you have plenty of choices. So, take a deep breath, be yourself and hopefully your date will lead to plenty more in the future!